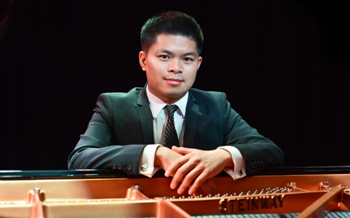 Friday, November 24, 2017
at 7:30 PM
Wayne Weng (pianist)
In collaboration with
Debut Atlantic
Pianist Wayne Weng's playing has been described as "bold, vibrant, and immensely musical," and as having "delicacy amounting to almost reverence […] through gossamer touch" (Wiltshire Gazette & Herald). His "ability to modulate the piano's sound […] coupled with his great ear easily gave him an edge" (Sioux City Journal) to capture the first prize at the 2013 Iowa Piano Competition.
He has also won prizes at the Washington International Competition for Piano, Tunbridge Wells International Young Artists Competition, Haverhill Sinfonia Soloists Competition, Pacific Piano Competition, CBC Debut Concert Artists Auditions, and Kingsville International Young Performers Competition. And he has been a recipient of the Solti Foundation Grant and the British Columbia Arts Council Senior Scholarship.
As a soloist as well as a chamber musician, Mr. Weng has performed in Canada, the United States, England, Italy, France, Holland, Belgium, Austria, Serbia, Egypt, Hong Kong, and Taiwan. These venues include the Kennedy Center in Washington D.C., Chicago Cultural Center, Bargemusic in New York, Bösendorfer Hall at the Mozarthaus in Vienna, Teatro Pavone in Perugia, the Fitzwilliam Museum at the Cambridge University, the National Music Museum in South Dakota, the 92nd St. Y in New York, Steinway Hall in New York, Brooklyn Public Library, the 100 Club in London, the Palace of Fontainebleau, the Brahms Museum in Mürzzuschlag, the Polish Consulate in New York, the Bulgarian Consulate in New York, Cairo Opera House, the Chan Centre in Vancouver, the Orpheum Theatre in Vancouver, the Vancouver Playhouse, and the British Columbia Governor House, among others.
He has performed concerti with the Vancouver Symphony Orchestra, Sioux City Symphony Orchestra, Vancouver Metropolitan Orchestra, West Coast Symphony, Philharmonic Orchestra of the University of Alicante, Victoria Symphony Orchestra, Orchestra Seattle, and the Avanti Orchestra. His performance has been broadcast on radio stations such as the WFMT Chicago, WQXR New York, CBC Radio and Seattle King FM.
He has participated at summer festivals such as the International Holland Music Sessions, International Keyboard Institute and Festival, TCU/Cliburn Piano Institute, Bowdoin International Music Festival, Habitat4Music, and Ecole d'Art Americaines in Fontainebleau, where he was awarded the Piano Prix.
In addition to performing, he regularly judges competitions across North America; he has been an adjudicator at the Festival on the Lake and the North Shore Music Festival in Vancouver, the International Chopin Youth Competition in Houston, and Connecticut State Music Teachers Association Competition.
Mr. Weng is currently pursuing the Doctor of Musical Arts degree at the City University of New York's Graduate Center, where he is a fellowship recipient and studies with Ursula Oppens. He has previously studied with Donna Fishwick, Sasha Starcevich, Natalya Antonova, Pavlina Dokovska, Joan Havill and Peter Frankl. He holds degrees from the Eastman School of Music (Bachelor of Music and Performer's Certificate), Mannes College of Music (Master of Music), Guildhall School of Music and Drama (Master with distinction), and Yale University (Artist Diploma).
Learn more at http://www.wayneweng.com and also at Debut Atlantic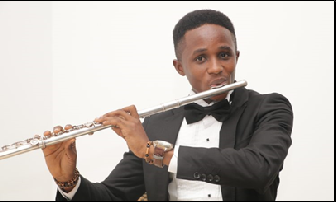 DCCA Youth Performer

Ogo-Oluwa Sobukola (Flutist)
Flutist Ogo-Oluwa Sobukola started playing the flute at the age of 17. His exceptional ability was discovered by his music teacher who encouraged him participate in the MUSIQUEST competition for young musicians, where he emerged as the first runner up. In 2013, he began studying the flute with Lt. CDR Abayomi Odujobi (Rtd). As a chamber and orchestral musician, Ogo-Oluwa participated in an international tour to the 10th Stellenbosch International Chamber Music Festival in the same year.
As one of the outstanding students at the MUSON School of Music, he received the David Nwamara prize for best graduating woodwind student in 2015, and was featured as a soloist at the Commonwealth Head of Government Meeting 2015 (CHOGM).
He is currently studying under Patricia Creighton, Flute instructor at Dalhousie University's Fountain School of Performing Arts.
Concerto in D Major, K. 314/285d (1778)
I. Allegro aperto W.A. Mozart (1756-1791)
Sonata in C Major, BWV. 1033 J.S. Bach (1685-1750)
III. Adagio
Sonata for Flute and Piano Otar Taktakishvili (1924-1989)
III. Allegro scherzando
Danbee Ko (piano accompaniment)
Born and raised in Seoul, Korea, Danbee Ko began her study of piano at the age of six and moved to Canada with her family at the age of thirteen. In 2014, she graduated with a Bachelor of Music in Piano Performance, studying under the instruction of Dr.Deanna Oye. Danbee's great passion for music and for musical collaboration led her to pursue a Master's degree in Collaborative Piano at the University of Western Ontario, under the instruction of Dr. John Hess and Marianna Chibotar. Throughout her tenure at UWO, Danbee received first place in Maritsa Brooke's 2015 Concerto Award at the University of Western Ontario. After completing her Master's degree, Danbee accepted the position of Staff Accompanist in the Fountain School of Performing Arts at Dalhousie University and relocated to Halifax, Nova Scotia in September 2016.